Washington, DC - Next week, the California Public Utilities Commission (CPUC) will hold a series of public hearings on the impact of the proposed T-Mobile/Sprint merger on California, with hearings scheduled for Tuesday, January 15 in Fresno; Wednesday, January 16 in Los Angeles; and Thursday, January 17 in San Diego. Ahead of the hearings, the Communications Workers of America (CWA) today released a series of resources and reminders of why the proposed merger would be bad news for California workers and consumers.
CWA analysis shows that as presently structured, the merger would result in 3,342 lost jobs and reduced wages for California workers, increased prices for California consumers, and shuttered stores in urban areas of California, while still leaving rural parts of California without access to high-speed broadband. Among the new merger resources and activity announced by CWA today include the following:
New CWA report: "How the T-Mobile/Sprint Merger Will Impact California." A new report from CWA details what the proposed T-Mobile/Sprint merger would mean for California and the nation on the following topics: jobs and wages; low income consumers; Hispanic and African-American consumers; rural Americans; and national security.
According to Thomas Runnion, CWA District 9 Vice President, "The proposed T-Mobile/Sprint merger would be bad news for California workers and consumers, eliminating more than 3,300 state jobs while raising prices for T-Mobile and Sprint customers, especially cost conscious customers who choose pre-paid plans. As California regulators prepare to explore how the proposed merger would affect our state, we look forward to the series of public hearings as an opportunity to share details and reminders why the merger fails the public interest standard and should be opposed as currently structured."
Additional Background
CWA District 9 testimony to CPUC: proposed merger would result in "substantial public interest harm" and hurt California workers and consumers. On Monday, January 7, CWA District 9 submitted official testimony to the CPUC (available in full online here), including detailed analysis about how the merger would result in the loss of 30,000 jobs across the United States, including 3,342 jobs in California; reduce wireless workers' wages in California; and increase consumer prices as much as 15.5 percent on the new T-Mobile's prepaid plans and as much as 9.1 percent for postpaid plans. The filing also shows that the companies have failed to demonstrate how the merger would improve 5G build-out or improve rural offerings compared to standalone firms.
 See below table for more information on retail store closures and job losses by specific metro area within California: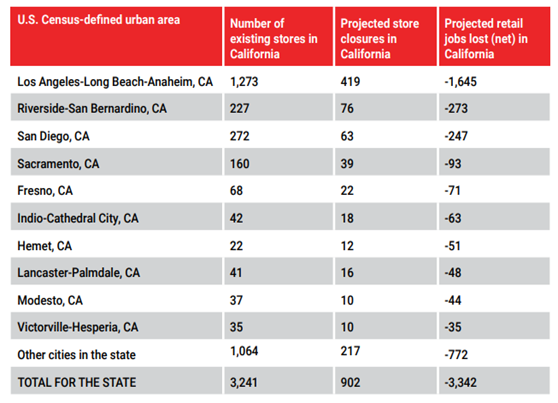 EPI/Roosevelt study highlights T-Mobile/Sprint merger would reduce California wireless workers' wages: A recent paper by the Economic Policy Institute and Roosevelt Institute examined the labor market impact of the proposed Sprint/T-Mobile merger on retail workers who sell wireless equipment and services, finding in California the post-merger average annual earnings of retail wireless workers would decline. For example:
Los Angeles: $2,906 decline in retail wireless workers annual earnings
San Francisco:  $2,953 decline in retail wireless workers annual earnings
San Diego: $2,363 decline in retail wireless workers annual earnings
San Jose: $2,728 decline in retail wireless workers annual earnings
Sacramento

: $2,319  decline in retail wireless workers annual earnings
Press Contact:
Beth Allen
[email protected] 
202-434-1168
Amy Fetherolf
[email protected]
202-434-1168